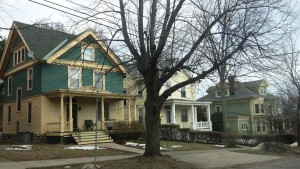 The "Paint Oswego" program is one arm of a multi-faceted revitalization effort for the City of Oswego in upstate New York. The Oswego Renaissance Association offers many services, such as matching grants to homeowners for exterior improvements, streetscape and park improvement funds.
The goal of the Paint Oswego program is to provide Oswegonians with an opportunity to complement their historic homes by choosing from among the rich history of house colors that existed in 19th and early 20th centuries.  The coordinated paint schemes developed by Historic House Colors provide ready, at-hand options. The ORA provides incentives to local homeowners in areas targeted for revitalization to choose among these color options. Custom color assistance is available if desired.
Historic House Colors created 60 historically correct period color schemes for Oswego separated into four historic periods. Homeowners can choose from the preset schemes or work with HHC to develop individual house specific colors and color placement.
UPDATE:  In 2015 HHC partnered with the Oswego Renaissance Association to add 30 additional colors to the available stock of historic paint schemes.
Rob Schweitzer – Historic House Colors